The Myth Of The Mostrophus
The New Solo Album From Ryo Okumoto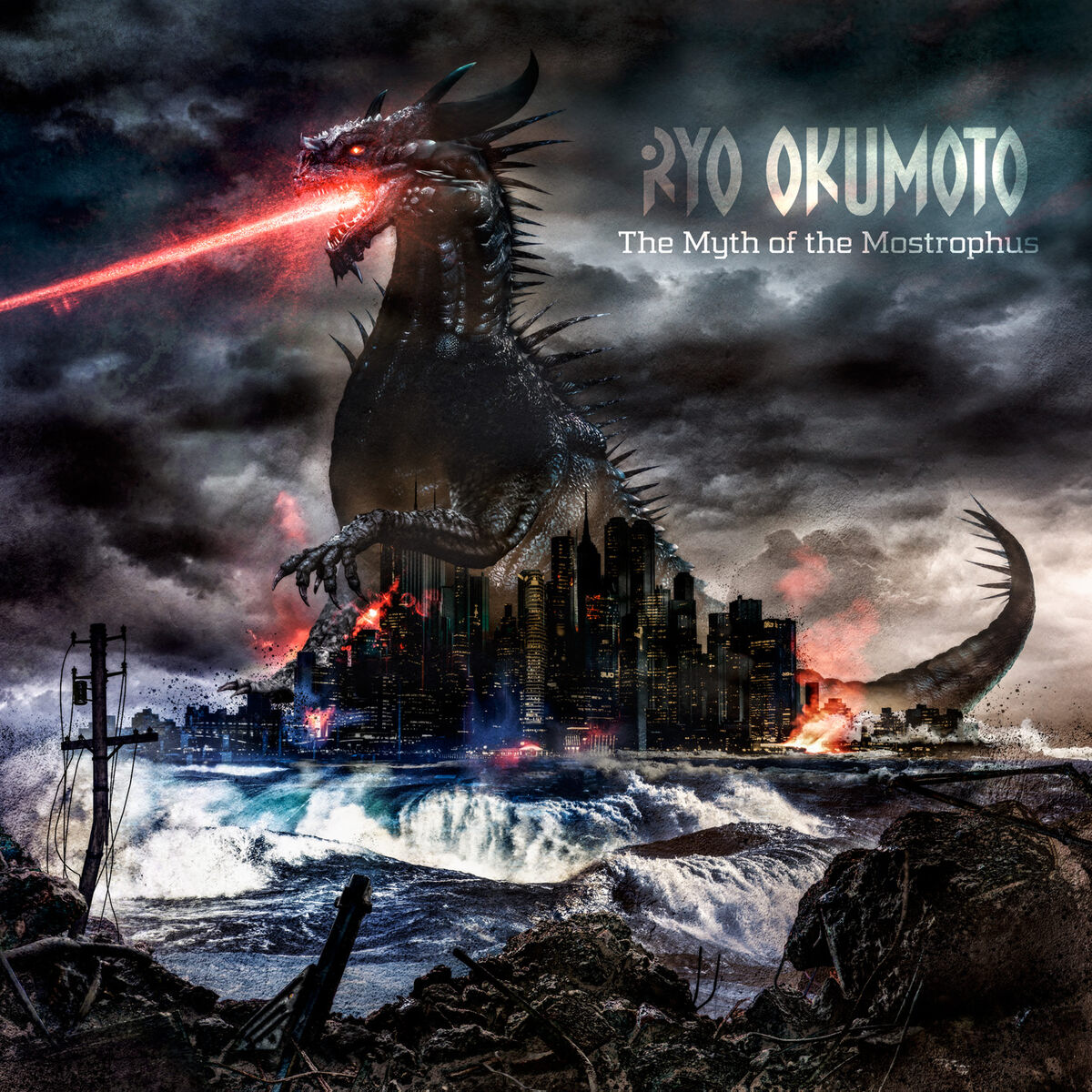 My latest solo album came out on July 29, 2022 on InsideOut Music! I'm excited to share it with you all!
The album is now available in a CD Digipak from InsideOut, a 2 LP+CD package in black vinyl, a special limited edition 2 LP+CD with transparent red vinyl LPs (only 300 made!), plus the Japanese CD edition with 2 bonus tracks.
We also offer bundles with an exclusive Demos CD and autographed posters. Click the button below to place your order now!
The Origins of the Myth of the Mostrophus
It was November 28, 2020, and while participating in a livestream event called The Fusion Christmas Cracker, I saw a band called I Am the Manic Whale and was especially impressed by their lead singer/bassist Michael Whiteman, so I contacted him to see if he'd be interested in being a "collabowriter" for my next solo album. He enthusiastically said, "Yes."
It has been 20 years since the recording and release of my fourth solo album, Coming Through [2002], but I never stopped composing. I sent 30 ideas to Michael; he got to work and began sending back demos, one by one, and as they say, the rest is history – I had the basis of my album!
But wait…I had to wonder, "Who is going to play all the songs? They not only have to be the best players, but their personalities need to match each song."
I wanted to produce my own version of Spock's Beard, so I called the members and they all agreed to participate. The first song on the record is called "Mirror, Mirror", which happens to be the episode from "Star Trek" where Mr. Spock has a beard. A perfect match! Another song, "The Myth of the Mostrophus", is a 22-minute epic and is also the title song on the album. Who doesn't like epic songs?! "Myth" felt like it should be the last song on the album, which also led to my decision to go with Spock's Beard members. I called Nick D'Virgilio, who recorded his drums at Sweetwater Studios, and the wheels were in motion. Dave Meros and Alan Morse then overdubbed their parts at their respective home studios, and lastly, Nick and Ted Leonard sang – "Ryo's Beard" was complete.
For the other four songs I needed to shift gears away from Spock's Beard. At the time, I was rehearsing with Jonathan Mover in preparation for ProgJect's debut tour in April 2022 (it's from here, in my bunk on the tour bus, traveling from Cleveland to Buffalo with this all-star Ultimate Prog Rock Experience, that I'm writing this!). Jonathan agreed to play on the four remaining songs, so I sent him the demos and we got together to listen, talk, rehearse and [re]arrange, and he was ready to go. I then called Rich Mouser and we recorded Jonathan's drums at Rich's studio (Mouse House) in Pasadena.
Now that we had the rhythm tracks done, who was going to play everything else? I had used Steve Lukather on both Makin' Rock and Coming Through, but he was busy working on his solo album and putting the new TOTO together so I asked Jonathan for any recommendations. He contacted Lyle Workman and Steve Hackett. Bingo! Soon after, Mike Keneally joined ProgJect, so I asked him to participate, and prior to Mike, we had also played with Marc Bonilla – both said, "Yes."
I still needed a great R&B bass player for a couple of unique, demanding songs, who could groove but also rock, and once again, Jonathan stepped up and contacted Doug Wimbish from Living Colour. I couldn't believe it…like everyone else, Doug said, "Yes"! "Chrysalis" and "Turning Point" feature his amazing playing.
Last but not least was the extremely important choice of lead vocals. I'm very lucky to have my ProgJect bandmate Michael Sadler onboard, along with the multi-talented Randy McStine, and of course, my co-writer Michael Whiteman.
Special thanks to Rich Mouser, the engineer who recorded and mixed all of Spock's Beard's records, who did the same for me.
There's nothing better than to have a song – your song, which is like your baby – taken in and adopted by a great family of musicians that help nurture it to adulthood. I'm very excited at how this album came together and I hope people will appreciate every note painstakingly written and expertly executed.
The Tracks
​Mirror Mirror [09:27]
Turning Point [06:53]
The Watchmaker (Time On His Side) [06:25]
Maximum Velocity [08:11]
Chrysalis [07:35]
The Myth of the Mostrophus [22:14]
Additionally, the Japanese Edition of the CD includes the following bonus tracks:
Waiting To Be Born [04:49]
Sonny [03:55]
The Players
The Mostrophus Store