TROP "ProgFusion Live" Streaming at Umeda Always in Osaka, Japan - 6/26/2020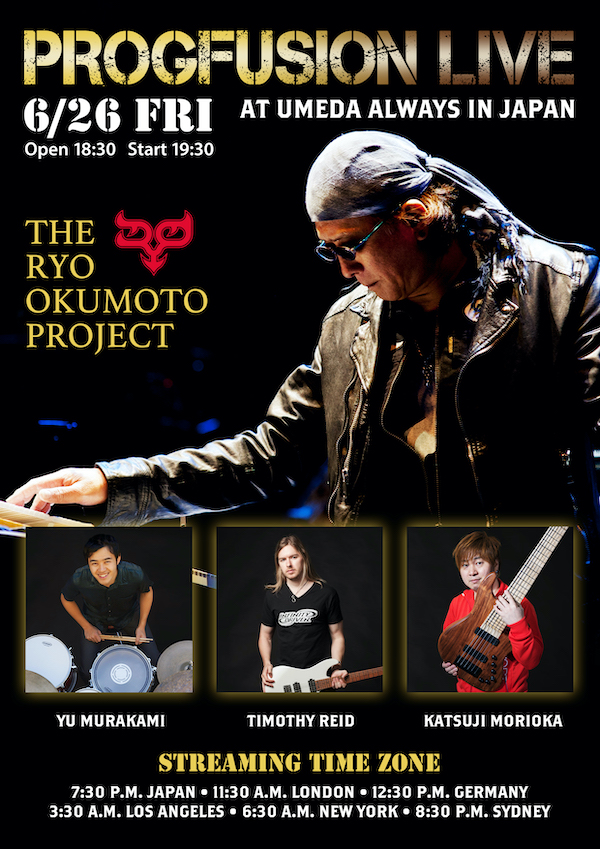 Friday, June 26, 2020
7:30 p.m. Japan
8:30 p.m. Sydney
11:30 a.m. London
12:30 p.m. Germany
3:30 a.m. Los Angeles
6:30 a.m. New York
Members:
Keyboards: Ryo Okumoto
Guitar: Timothy Reid
Bass: Katsuji Morioka
Drums: Yu Murakami
The Ryo Okumoto Project returns to Umeda Always in Osaka, Japan for this special live-streamed performance!
On the heels of his recent over-the-top performance in this same club, and the acclaimed "Prog From Home" performance, the Spock's Beard keyboardist and his exciting new band will play a selection of songs from his solo albums, as well as some Spock's Beard favorites.
Watch the June 9 performance below!
This event is being live-streamed in HD on YouTube and Facebook, with a new extensive 8-camera setup, and will also have a very limited audience on site.
Ryo will again be performing on the legendary Yamaha C7 grand piano, along with his full keyboard rig of classic synths, the mighty drawbar organ and Leslie, and an assortment of modern plug-ins, mad scientist style.
Ryo is one of the most animated, entertaining musicians in the genre, and the band is comprised of the best musicians Japan has to offer.
It will be a night of too many notes, and way too much fun!
See you there!