The Ryo Okumoto Project Plays Moogvember! - Nov 14, 2020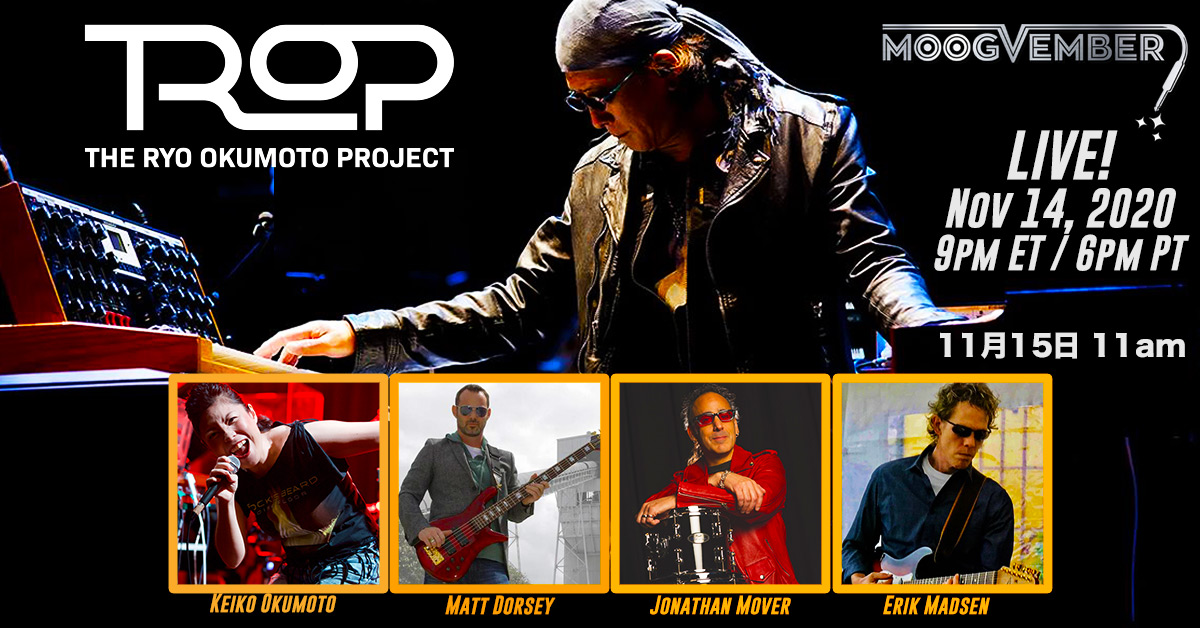 The Ryo Okumoto Project performs on November 14, 2020 at 6pm PST / 9pm EST
The ProgStock Presents Virtual Series is proud to announce an upcoming series of concerts and events, Moogvember, which will benefit the Bob Moog Foundation. Spanning all four Saturdays in November, Moogvember will feature acclaimed artists Adam Holzman, Larry Fast (with Erik Norlander), The Ryo Okumoto Project, Jordan Rudess, and Tom Brislin. Shows begin at 4pm and end at 10pm, ranging between $4-$10. Each concert requires a separate ticket.
A portion of the proceeds from each Moogvember show will be donated to the Bob Moog Foundation to benefit their educational and archive preservation efforts, including the new Moogseum, which was closed for five months due to the pandemic.
Tickets for the live TROP Performance cost $10 and can be purchased here.
Tickets for all other performances can be purchased at StageIt.com/ProgStock
Attendees are encouraged to create a StageIt account and purchase tickets prior to the event. More details are available on the Moog Foundation anouncement.
Joining Ryo for this special Moogvember performance will be:
Matt Dorsey (Sound Of Contact, Dave Kerzner, In Continuum) on bass, guitar and lead vocals
Jonathan Mover (Steve Hackett, GTR, Joe Satriani) on drums
Erik Madsen (Jamie Foxx, Trueschool All Stars) on guitar
Keiko Okumoto on lead vocals

The show will be live-streamed from Champion Site+Sound in Los Angeles, a professional studio facility owned by Jonathan Mover. The experience will be as close as possible to a real live show, with a fully staffed light, audio and multi-camera setup in a real studio.
The live set will feature covers of songs from marquee artists including King Crimson, Jethro Tull, Genesis, UK and Spock's Beard.

Performed in real time and live once only! You do not want to miss this!